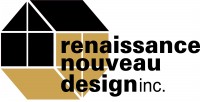 Renaissance.....
Established in 1991, we are a full-service Architectural design firm.  Our values originate from the very definition of the word "Renaissance".  Dating back to the 15th Century, a Renaissance man was talented enough to perform any task put in front of him.  He was universally known as one who was skilled enough to accomplish anything in life.  The meaning of Renaissance or Rebirth is exemplified in our newly located office, situated in one of the fastest growing cities in Ontario.

Renaissance Nouveau Design Inc. has established the same values as the Renaissance man in the 21st Century.  By being skilled and creative enough to take on any project, and dedicated to providing unbeatable and exceptional service, our name represents the traditional ideas and philosophies of the Renaissance man.


Nouveau.....
Nouveau is another Architectural term often attached to reinforce the idea of something being fresh and new.  We offer full service to our clients who wish to purchase, build, design and plan.  Our projects range from custom homes and subdivisions, community centres and lifestyle communities, to resorts and and recreational time-share facilities.  We begin with property price and end with the completed building and the finished product.

Our unique service is something that we feel is not always provided to the public, but is crucial to our clients.  We strive to have our clients' needs and concerns met.  We work like the Renaissance man.